Volunteers (VIPS)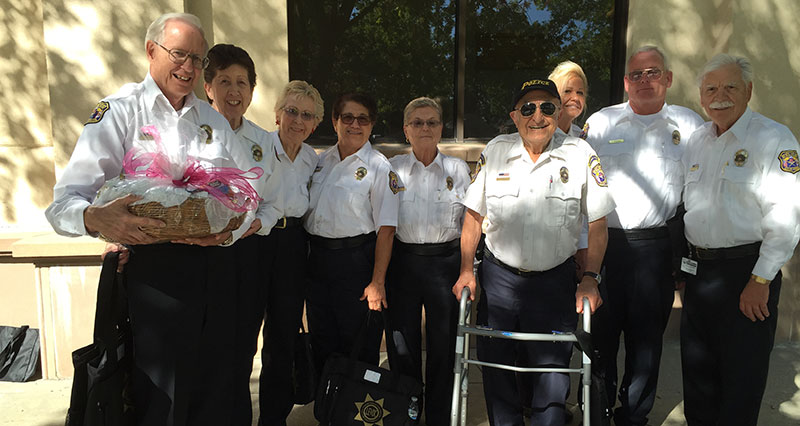 The Turlock Police Department's Volunteer Program began in October 2000. The program started out as volunteers in patrol and has gradually branched out to numerous other areas of the department. Volunteers have proudly logged over 100,000 hours to date. Our program is affiliated with
National Volunteers In Police Service
(V.I.P.S.). We join 38,000 volunteers within 700 law enforcement agencies as members of V.I.P.S.
The VIPS Program provides support and resources for the Turlock Police Department and consists of citizens who wish to volunteer their time and skills with a community law enforcement agency. Our volunteer program consists of both in-house volunteers and patrol volunteers. This allows our volunteers to utilize their skills and experience in a way that will better the community.
In-house Volunteers
Our in-house volunteers assist with many divisions throughout the Department including records, property & evidence, investigations unit, Animal Services, Neighborhood Services, Crime Prevention, etc. Many of these volunteers assist with data entry, filing, clerical assignments, community relations, and more. The work they contribute to the community and the department has not only made our program successful, but has helped ensure the Citizens of Turlock get the best service possible.
Patrol Volunteers
Our patrol volunteers are the heart of crime prevention. Volunteers provide "extra eyes and ears" on patrol and help with educating the citizens of Turlock on ways to improve their safety.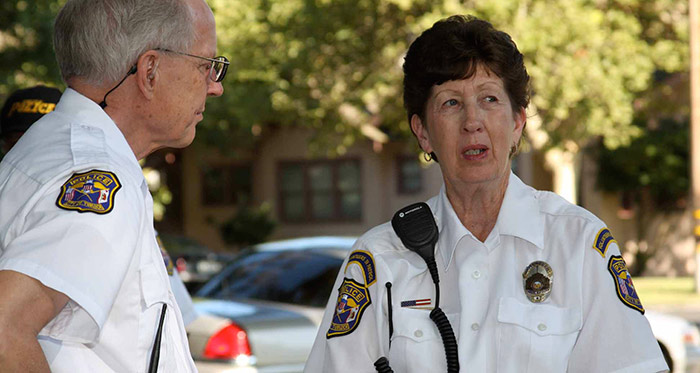 Some of the duties currently being performed by volunteers include:
Extra patrols to neighborhoods, schools and shopping centers
Making deliveries and distributing mail & information
Assisting at special events & Crime Scenes
Assist with Traffic Control
Issuing disabled parking citations
Assist with Neighborhood Watch program
Assist in searching for missing persons
Senior outreach
2080 Club
Given the standard that 2,080 hours is considered an individual work year, VIPS are making a significant economic savings contribution to the community as well as providing high-visibility crime prevention patrols. We established the VIPS 2080 Club to properly honor and reward the dedication of these individuals.The Department congratulates them and thanks them for their dedication to our VIPS Program.
Volunteer Training Program
To provide adequate knowledge for safety and effective service, all volunteers go through a thorough training program. The training program is designed to provide a basic introduction into law enforcement, introduction to the Turlock Police Department, and job specific training. The training is divided into three phases.
Phase I
In August of 2012, the Turlock Police Department co-hosted the first Stanislaus Regional Law Enforcement Volunteer Academy with over 70 registered students. This academy is a 10 week program designed for all law enforcement agencies within Stanislaus County (Turlock, Ceres, Modesto, Newman, Oakdale, and the Stanislaus County Sheriff's Department). Agencies outside of Stanislaus County have also participate in the training program.
All volunteers interested in patrol functions will begin their training in this phase; however, it is also highly recommended that in-house volunteers complete the academy as well.
This academy provides an overview of law enforcement as well as information on crimes throughout the area, and ways the volunteer can keep themselves and others safe.
Some of the training topics include:
Traffic Control Techniques
Gangs & Drugs
Crime Prevention
Radio Communication
Crime Scene Procedures
Fire & Hazmat Response
Officer ride-along
Disaster response
Situation Awareness
Jail Tour (optional)
Range training (optional)
Phase II
During phase II volunteers will become oriented with the Turlock Police Department. In-House volunteers that are not working patrol will begin their training here. During this phase, volunteers will meet with the Volunteer Coordinator, the Records Department, Traffic Unit, Communications Unit, and Neighborhood Services unit. All equipment will also be issued during this phase. After completion of phase II, volunteers will transition into phase III.
Phase III
During Phase III, volunteers working in-house only will begin their training with the specialized unit they are assigned to.
Patrol volunteers will begin their field training program and will be assigned to a Field Training Officer. This is a hands-on in depth training that puts the academy training into practical application on the streets or in the office. Volunteers working patrol will also be asked to attend a police briefing, as well as three special events with a volunteer trainer.
After completion of phase III, the volunteer will graduate from Volunteer Trainee to Volunteer.
Minimum Requirements to Become a Volunteer
Applicants must be at least 21 years of age. There is no maximum age limit.
The applicant must be of good character and possess good moral habits
Applicants must be willing to serve ten (10) hours per month or a minimum of four (4) shifts. All activities are to be approved by the Volunteer Coordinator.
Applicants must be willing to participate in the Volunteer Academy Training (patrol VIPS) and on the job training
All applicants must successfully pass a background investigation including, but not limited to, a criminal history records check.
How to Become a Volunteer
The Volunteer program is not designed as a Police Officer training program, but is designed for citizens that are interested in volunteering their time and serving the community. Due to the amount of time our volunteers dedicate to training new volunteers we look for citizens that are interested in volunteering on a long term basis.
If you are interested in joining our team, and you meet the requirements, please fill out the volunteer application and return it to the Turlock Police Department at 244 N. Broadway.
VIPS Volunteer Application
Put your skills and life experiences to work for your community!
Current VIPS information (for current VIPS only)