National Night Out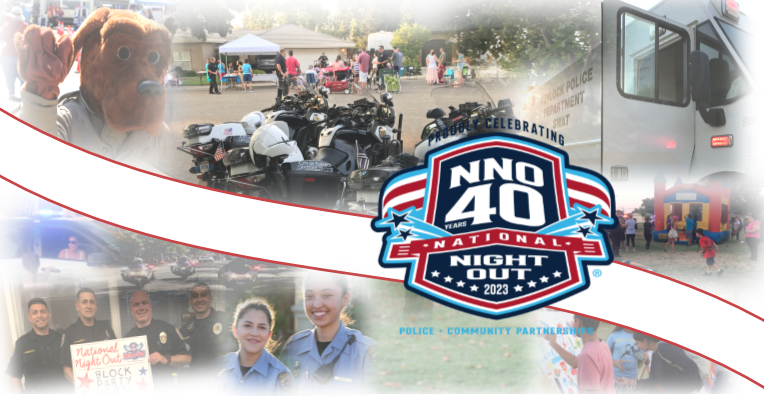 National Night Out 2023 will be Tuesday, August 1


National Night Out
Since 2009, the Turlock Police Department has joined forces with thousands of other communities and law enforcement agencies across the nation to support this community-building campaign. This event is always scheduled for the first Tuesday in August, so be sure to mark your calendars every year and follow us on social media for updates! The goal of this event is to create a safer community for everyone by strengthening neighborhood spirit and building partnerships. From 6:00pm - 9:00pm, neighbors throughout the nation are encouraged to turn on outside lights and spend the evening outdoors.
Individual homes, neighborhoods and apartments can register their locations for the opportunity to receive a visit from Turlock Police, Fire, City officials, McGruff and other mascots. If available, coordinators will receive enough water, food, chips and supplies to host their Night Out. Citizens, businesses and non-profits can also
get involved
by participating in the fundraising events and activities leading up to National Night Out.
We hope you join us for a Night Out to celebrate National Night Out!*
* These events may be limited or cancelled due to federal or state guidelines regarding COVID-19. In the case City staff or officials are not able to visit your area, we still encourage you to have a fun Night Out with your family by having a picnic on your front lawn or participate in the fundraising activities to encourage neighborhood spirit and build community partnerships.
Houses, Neighborhoods, Parks and Apartments
Areas of any size or type can register their locations and celebrate their
Night Out
with a variety of activities such as block parties, front yard picnics, barbeques, lemonade stands, car shows, ice cream socials or any other creative ways. By registering your location, you and your family will be able to attend
any
Pop Up event demonstrations and the opportunity to receive a special visit the evening of National Night Out.
Registration Deadline: Friday, July 14, 2023, 5:00:00 PM
National Night Out: Tuesday, August 1, 2023, 6:00PM - 9:00PM
If you are not able to coordinate a block party or picnic in a front yard, consider signing up for one of the other options to walk, run, roll or stroll around your neighborhood during National Night Out. You will be able to attend a Pop Up event demonstration prior to National Night Out
and
be sure to check the map below so you can wave hello to other block parties the evening of National Night Out!
Donation Opportunities
Monetary Donations
Citizens, organizations and businesses can donate by delivering cash or checks in-person or mailing them to:
Attn: Crime Prevention Unit
NNO DONATION
Turlock Police Department
244 N. Broadway
Turlock, CA 95380
Non-Monetary Donation
In order to help us reach our goals for this year's event, we are asking for citizens or businesses to donate grocery store gift cards, bottled water or to get involved with fundraising opportunities to help us provide resources to participating locations.
All sponsors will be acknowledged at the event or on social media. A donation of any amount will make a positive difference and will be greatly appreciated by the Turlock community.
Residential Street Closure
Crime Prevention Classes
Please be advised that all participants in the National Night Out event are subject to being photographed/videotaped. Such photographs may be used by the City of Turlock without an obligation to provide compensation to those photographed.