Volunteer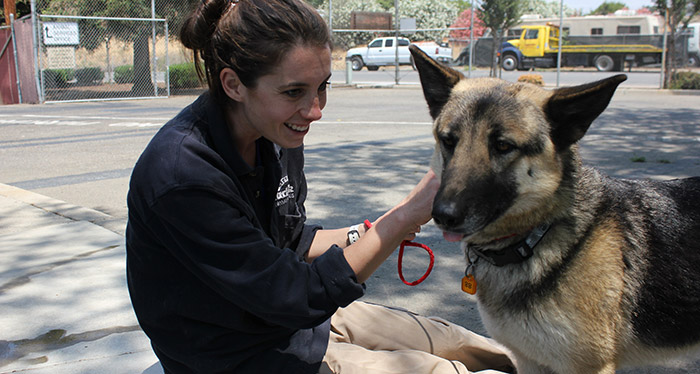 Giving hands-on care to animals, educating our community, providing administrative support and more, Turlock Animal Services volunteers report a deep sense of satisfaction in contributing to the health and well-being of animals while working alongside our staff who desire to reunite, rescue or adopt animals.
We provide the training for all volunteer positions. No prior experience is required. Whether cleaning cages, socializing animals for placement in new homes or helping to make an event successful, you can be a part of the life-saving work we do.
Expectations of Turlock Animal Services volunteers
Dedicated volunteers are needed to augment our workforce. We schedule their hours according to animal care needs. It is vitally important that volunteers show up for their shifts. Dedication of 20 hours a month is requested.
While people volunteer for Turlock Animal Services because they love animals, the volunteers must also be able to work well with other people. It is all about people helping animals.
Volunteers must use the safe animal handling techniques taught in their required training.
All tasks such as cleaning cages to stuffing envelopes have specific procedures. Volunteers must adhere to these procedures unless a staff member directs them otherwise.
Once volunteers know their work routines, they are expected to work with minimal supervision. Following through on tasks ensures the animals are receiving the best possible care. Staffs are always available to answer questions.
Get started
If you're interested in volunteering with Turlock Animal Services, please follow these steps:
Volunteer positions have a minimum age requirement of 18.
Submit an application - Pick up an application at 244 N. Broadway, Human Relations.
Interview - Applicants meeting the qualifications will be invited to an interview.
Background check - Applicants successfully passing the interview will be subject to a background check.
Orientation - After a successful background check, candidates will be schedule for an orientation.
Make a commitment - Schedules are flexible. We ask for a three- to six-month commitment with 20 hours a month requirement.