Too Many Neighborhood Cats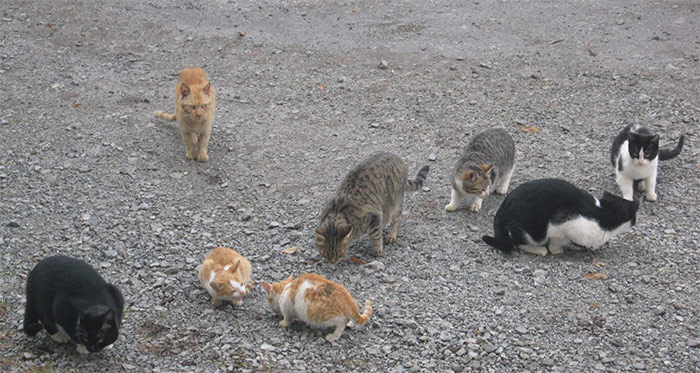 Neighborhood Cats
The State of California does not require that cats have a rabies vaccine or to be on a leash. Cats are considered ''free-roaming agents'' rather than strays. It is up to each governing agency to determine how they choose to handle the cat population. As such, loose cats should not be called in as strays or brought to the shelter unless the animals are sick or injured and in need of immediate medical care. With the large number of abandoned cats and subsequent litters they produce, any agency would be hard pressed to handle the number of calls regarding cats in one neighborhood, let alone an entire city.
The City of Turlock does not regulate cats
, and we do
not
require them to have a rabies vaccination or City of Turlock license.
Healthy, Friendly Cats
It is not unusual for pet cats to explore the area around their home. Friendly kitties are most likely a neighbor's pet and should be left alone as long as they are safe. If you find a healthy, friendly cat, you can bring it into scan for a microchip and place a found pet report with Turlock Anima Services, but we will ask that the cat be returned where it was found afterward. We always encourage cat owners to microchip their pet and make sure it wears a collar with tags.
Kittens
We ask that if you see kittens in your yard, to monitor them for 24 hours. Mom may be out and about looking for food and water and will return. The mother is the best care taker for the kittens. Turlock Animal Services does not have a neonatal kitten program to care for newborn kittens. If mom has abandoned them please call 209-656-3140 ext 4 for further assistance.
Sick, Injured & Abandoned Cats
If you find a cat that is severely injured, ill or abandoned, if you are able to, please bring the pet to the shelter. Severely injured animals may be dropped off at Turlock Animal Services during business hours. If it is after hours and If it is unsafe for you to pick up or move the animal, you may call our non-emergency dispatch at 209-668-1200.
Feral Cats & Kittens
Are cats that are unsocialized and avoid human contact because they have never had human contact or over time have lost contact with people. These cats may have been former house cats (pets) or may have been born to former house cats or other community cats. Feral cats can still have a caregiver someone who is providing food and shelter or they may seek food and shelter on their own and consider the neighborhood to be "home." Whatever their origin, most survive where there is food and shelter and do well in a variety of settings, from urban to rural. The shelter does not take in feral cats or kittens. Instead, we offer assistance with T-N-R (Trap-Neuter/Spay-Return). Please call to learn more about this program. 209-656-3140 ext 4.